What is a Mommy Makeover?
A Mommy Makeover in the United States (also known as a Mummy Makeover in Australia and the UK) is the term coined for a combination of procedures designed to restore various parts of the body post-pregnancy, through plastic surgery. It commonly includes an abdominoplasty (a tummy tuck), a breast augmentation or a breast lift, and liposuction. A Mommy Makeover is designed to help you return to a more youthful-looking body appearance.
How do I find the right surgeon?
The best way is to speak to a few surgeons, compare their past work and find out which surgeon you are most comfortable with. At Holiday Health, we can connect you to reputable and reliable plastic surgeons who specialize in Mommy Makeovers. We strongly suggest you take into consideration that the surgeon you choose:
is reputable and trustworthy;
has a proven track record;
is registered with or accredited by their local government or the governing medical body or association;
has never been disqualified from practising anywhere in the world;
has never been found guilty of endangering a patient's life; and
has never been found guilty of malpractice.
You should also include any preferences you might have. For example, you might be more comfortable with a female doctor, or someone who has successfully completed thousands of Mommy Makeover surgeries.
What happens during the surgery?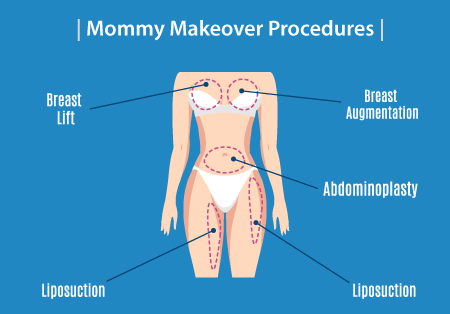 You will have an initial consultation with your specialist to discuss the suitability of the procedure, and discuss the details of the surgery. Once all of the details are agreed upon and confirmed, a date for the procedure is set.
Depending on the cosmetic surgery options you choose to undergo as part of your Mommy Makeover, the time you are in surgery and the recovery period will vary. Please consult with your plastic surgeon on how long the procedure will take; what happens during, pre- and post-surgery; as well as what risks are apparent.
You may also read more about the various plastic surgical options individually here:
What is the recovery time like post-surgery?
Typically, you may have to stay overnight in the hospital before being given the green light to check out. IT usually takes 10-14 days before you will be able to resume your daily activities and you may only be able to resume heavy duties after 4-6 weeks post-procedure.
Your plastic surgeon may also recommend waiting around 2-weeks post-procedure before flying, and taking precautionary measures against the risk of deep vein thrombosis (DVT).
Important information about mommy makeovers  
Before your procedure, you will have the opportunity to discuss your goals and the results you would like to achieve with your plastic surgeon. Communication is vital in reaching your goals. Ensure you communicate your vision clearly to your plastic surgeon and re-confirm the intended procedure to ensure there is no miscommunication. Your plastic surgeon will work with you to reach an understanding about what you can expect from this procedure, and what long-term benefits and side-effects you may experience. Every patient is different, and your specialist will choose the surgical technique and treatment plan that is right for you.
Your plastic surgeon will give you specific instructions on how to prepare for surgery, including guidelines on eating and drinking, smoking, and which vitamins and medications should be taken or avoided.
Please note. The information found on this website is purely for educational purposes only and should not be relied upon for its exactness or for its accuracy for your specific situation and/or for your specific procedure. The information provided is not a substitute for advice from your physician/surgeon as it may not contain all the known facts, risks and side effects of this procedure. Please consult with your physician/surgeon about your personal circumstances and about your personal procedure/treatment plan. We take no responsibility for any misinformation, inaccuracies, or for any loss or damage suffered by you in relation to the services we provide to you, or the information provided on our website.
Cost of a Mommy Makeover in Turkey starts from USD$4,370
Turkey sees tens of thousands of cosmetic surgery patients each year. Home to internationally renowned cosmetic surgeons, specialist clinics in Istanbul, Ankara, Antalya and Izmir, offers Mommy Makeover packages from USD$4,370. This price usually includes accommodation as well as airport and hotel transfers, making Turkey a very value-for-money destination.
Cost of a Mommy Makeover in Mexico starts from USD$5,651
Many patients from the United States choose to make the journey across the border for cheaper and more accessible plastic surgery procedures due to its proximity to their hometowns. Mommy Makeover packages in Mexico starts from USD$5,651.
Cost of a Mommy Makeover in Thailand starts from USD$6,028
Thailand is and has been a popular destination for medical tourists seeking out cheaper cosmetic surgery. Bangkok, Chiang Mai and Phuket sees hundreds of thousands of medical tourists each year with the average cost of a Mommy Makeover package in Thailand starts from USD$6,028.
Cost of a Mommy Makeover in Australia starts from USD$10,549
Australia has a good reputation for cosmetic procedures. A favourite destination for well-to-do Chinese, Indians and Singaporeans; specialist plastic surgeons in Melbourne, Sydney, Brisbane and Perth offer Mommy Makeover packages starting from USD$10,549.
Cost of a Makeover in the United States of America starts from USD$12,056
Over 1.7 million patients underwent a cosmetic surgical procedure in the US in 2016. With skilled cosmetic surgeons, the specialist plastic surgery clinics in the USA in Los Angeles, Newport Beach, Miami and New York continue to be popular with Mommy Makeover patients despite their high price tags. The cost of a Mommy Makeover in the US starts from USD$12,056.
Cost of a Mommy Makeover in the United Kingdom starts from USD$13,563
The price of a Mommy Makeover in Britain starts from USD$13,563. Majority of the medical tourists prefer to travel to UK's main cities such as London, Birmingham, Edinburgh, Glasglow and Manchester.
Cost of Mommy Makeover – from the most affordable to the most expensive
| | Country | Pricesstarting from |
| --- | --- | --- |
| 1. | Turkey | $4,370 |
|  2. | Mexico |   $5,651 |
|  3. |  Thailand |  $6,028 |
|  4. |  USA |  $10,549 |
| 5. |  Australia |  $12,056 |
| 6. |  UK |  $13,563 |
* Please note. All pices are in USD and are subject to change.