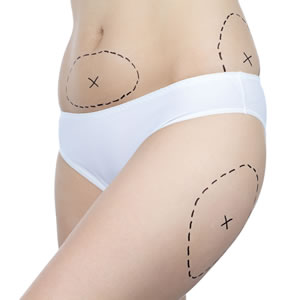 Cost of VASERlipo
| | | |
| --- | --- | --- |
| UK | | AUD4465.00 |
| USA | | AUD3272.00 |
| Australia | | AUD2955.00 |
| Malaysia | | AUD1799.00 |
| Mexico | | AUD1497.00 |
| Poland | | AUD827.00 |
* Prices start from and are subject to change
VASERlipo
Aesthetic
What is VASERlipo?
VASERlipo, uses a precise, minimally invasive liposuction technology that produces eye-catching results in just one procedure without the discomfort and long recovery times of typical liposuction treatments. The procedure is tissue selective, targeting fat whilst protecting other tissues from damage. It is powerful enough to eliminate substantial areas of fat, but gentle enough to treat delicate areas such as the neck and arms.
VASERlipo uses a minimally invasive liposuction technique that selectively breaks apart and gently removes unwanted fat. The procedure is able to improve body contouring over traditional liposuction, smooth skin even in delicate areas like the arms and neck, refine and accentuate appearance of muscles, and can easily remove large amounts of stored fat.
The procedure
Your plastic surgeon will have a consultation with you to discuss your goals, options and the details of your liposuction procedure. Once all of the details have been agreed upon and confirmed, a date for the liposuction procedure is set.
During the procedure, the targeted area is injected with a special saline solution (tumescent fluid) to numb the area, and shrink local blood vessels. It also temporarily expands the volume of the target area, making fat cells easier to move. Small probes are then inserted into the body through small incisions. These probes resonate at a high ultrasound frequency, shaking fat cells loose, while leaving surrounding tissues intact. The loose fat cells will mix with the tumescent fluid, and are then removed from the body using special cannulas which help preserve the tissue matrix.
A VASERlipo procedure usually takes 1-hour. However, larger areas may take longer. Patients are usually discharged after the procedure. Post-procedure, your plastic surgeon will prescribe a recovery regimen to promote maximum skin retraction and smooth results. Your plastic surgeon may recommend massage therapy to enhance results and speed recovery.
Patients are advised to keep the wounds clean, and dry. Your plastic surgeon may also recommend for you to wear special compression clothing.
How do I find the right plastic surgeon?
The best way is to speak to a few plastic surgeons and find out which surgeon you are most comfortable with. At Holiday Health, we can connect you to reputable and reliable cosmetic surgeons. We strongly suggest you take into consideration that the surgeon you choose:
is reputable and trustworthy;
has a proven track record;
is registered with or accredited by their local government or the governing medical body or association;
has never been disqualified from practising anywhere in the world;
has never been found guilty of endangering a patient's life; and
has never been found guilty of malpractice.
You should also include any preferences you might have. For example, you might be more comfortable with a female surgeon, or someone who has more experience.
Important 
Before your procedure, you will have the opportunity to discuss your goals and the results you would like to achieve with your plastic surgeon. Communication is vital in reaching your goals. Ensure you communicate your vision clearly to your plastic surgeon and re-confirm the intended procedure to ensure there is no miscommunication. Your plastic surgeon will work with you to reach an understanding about what you can expect from this procedure, and what long-term benefits and side-effects you may experience. Every patient is different, and your specialist will choose the surgical technique and treatment plan that is right for you.
Your plastic surgeon will give you specific instructions on how to prepare for surgery, including guidelines on eating and drinking, smoking, and which vitamins and medications should be taken or avoided.
Please note. The information found on this website is purely for educational purposes only and should not be relied upon for its exactness or for its accuracy for your specific situation and/or for your specific procedure. The information provided is not a substitute for advice from your physician / surgeon as it may not contain all the known facts, risks and side effects of this procedure. Please consult with your physician / surgeon about your personal circumstances and about your personal procedure / treatment plan. We take no responsibility for any misinformation, inaccuracies, or for any loss or damage suffered by you in relation to the services we provide to you, or the information provided on our website.
FAQs
The price of VASERlipo varies. With the plastic surgeons we work with, the price starts from AUD$1,799.
A consultation with your plastic surgeon can determine your suitability for this procedure.
Infection
Scarring
Swelling
Embolism
Fluid build up or imbalance
Internal organ puncture
Nerve damage
Lumpiness or dents in the skin
There may be other potential risks involved when undergoing a VASERlipo procedure. Please discuss them further with your plastic surgeon.
Contact Us