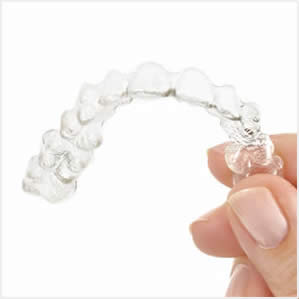 Cost of Invisalign
| | | |
| --- | --- | --- |
| USA | | AUD6538.00 |
| Australia | | AUD6000.00 |
| Mexico | | AUD5995.00 |
| Turkey | | AUD4842.00 |
| Thailand | | AUD4499.00 |
| Poland | | AUD3596.00 |
* Prices start from and are subject to change
Invisalign
Dental
What is the Invisalign system?
The Invisalign system is a virtually invisible treatment to effectively straighten your teeth and achieve the smile you've always wanted. It is a clear alternative to metal braces. Using advanced 3D computer-imaging technology, the Invisalign treatment will outline your complete treatment plan, from the initial position of your teeth to the final desired position.
A series of clear aligners are then custom-made for your teeth to move them little by little. The treatment will consist of a series of aligners that you switch out approximately once every 2-weeks, before being replaced by the next in the series, until the final position of your teeth is achieved. Each aligner is individually manufactured with the exact calculations to gradually shift your teeth into place, and help you achieve a stunning smile.
How do I get my Invisaligns fitted?
You will have an initial consultation with your dentist to discuss the suitability of the treatment, to communicate your desired goal, discuss options, discuss the treatment, have dental X-rays and photos taken of your mouth. The dentist will then take impressions of your mouth.
Your dentist will then commission for your Invisalign aligners to be prepared and once ready, you will be provided with instructions on its use, and care. The Invisalign aligners should be worn at all times, for a minimum of 20-hours each day, except when eating, or cleaning your teeth. Every 2-weeks, your Invisalign aligners are to be replaced with the next one in the system, slowly guiding your teeth into their new position.
The treatment usually takes around 1-2 years to achieve the final result and you are to see your dentist every 6-weeks or so to check on the progress and receive your next few sets of aligners. For this reason, you should consider dental practices close to home.
How do I find the right dentist?
The best way is to speak to a few dentists, look up their reviews and find out which dentist you are most comfortable with. At Holiday Health, we can connect you to reputable and reliable dentists. We strongly suggest you take into consideration that the dentist you choose:
is reputable and trustworthy;
has a proven track record;
is registered with or accredited by their local government or the governing medical body or association;
has never been disqualified from practising anywhere in the world;
has never been found guilty of endangering a patient's life; and
has never been found guilty of malpractice.
You should also include any preferences you might have. For example, you might be more comfortable with a female dentist, or someone who has more experience.
Important 
Before your treatment, you will have the opportunity to discuss your goals and the results you would like to achieve with your dentist. Communication is vital in reaching your goals. Ensure you communicate your vision clearly to your dentist and re-confirm the intended treatment to ensure there is no miscommunication. Your dentist will work with you to reach an understanding about what you can expect from this treatment, and what long-term benefits and side-effects you may experience. Every patient is different, and your dentist will choose the treatment plan that is right for you.
Your dentist will give you specific instructions on how to prepare for the treatment, including guidelines on eating and drinking, smoking, and which vitamins and medications should be taken or avoided (if applicable).
Please note. The information found on this website is purely for educational purposes only and should not be relied upon for its exactness or for its accuracy for your specific situation and/or for your specific procedure. The information provided is not a substitute for advice from your dentist as it may not contain all the known facts, risks and side effects of this procedure. Please consult with your dentist about your personal circumstances and about your personal procedure / treatment plan. We take no responsibility for any misinformation, inaccuracies, or for any loss or damage suffered by you in relation to the services we provide to you, or the information provided on our website.
Contact Us