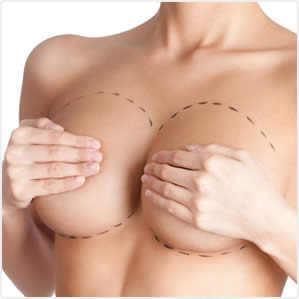 Cost of a breast implant
| | | |
| --- | --- | --- |
| USA | | AUD13884.00 |
| Australia | | AUD10822.00 |
| UK | | AUD5581.00 |
| Thailand | | AUD4400.00 |
| Mexico | | AUD4318.00 |
| Turkey | | AUD2397.00 |
* Prices start from and are subject to change
Breast Implants
Aesthetic
What are breast implants?
Breast implants are prostheses used to change the size, shape, and contour of a woman's breast. The procedure is commonly performed for women who wish to have larger, more shapely breasts; women who have had breast tissue removed (a mastectomy); women who want to correct breast asymmetry; women with under-developed breasts; and patients undergoing a male to female gender reassignment.
There are many different types of breast implants you can choose from, amongst which are:
Saline breast implants – filled with sterile salt water. These provide a uniform shape, firmness, and feel. Should the implant shell leak, a saline implant will collapse and the saline will be absorbed and naturally expelled by the body.
Silicone breast implants – filled with silicone gel. The silicone gel feels a bit more like natural breast tissue. Should the implant leak, the gel may remain within the implant shell or may escape into the breast implant pocket. A leaking implant filled with silicone gel will not collapse. If you decide to have silicone breast implants, you may need to visit your plastic surgeon regularly to ensure the implants are functioning properly – an ultrasound or MRI screening can assess the condition of these breast implants. Silicone implants also require a larger incision, compared to the incision that is necessary for saline implants. This means that the scar is larger.
Gummy bear breast implants – also known as form-stable implants. These implants are filled with a silicone gel which is thicker than traditional silicone gel implants. These implants are firmer than traditional implants but are deemed to be less likely to break. These gummy bear breast implants usually maintain their shape even when the implant shell is broken. The implants are shaped rather than round. They have more projection at the bottom and are tapered towards the top. If a gummy bear implant rotates, it may lead to an unusual appearance of the breast.
Round breast implants – have a tendency to make breasts appear fuller than gummy bear implants. Higher profile options can achieve even more projection. There is less concern about round breast implants rotating out of place as they are the same shape all over.
Smooth breast implants – have the softest feeling. These implants can move with the breast implant pocket, which may allow it to move more naturally. There may however be some noticeable rippling with smooth breast implants.
Textured breast implants – develop scar tissue to stick to the implant. This makes them less likely to move around inside of the breast and be re-positioned. There is some advantage with textured breast implants in diminishing the risk of a tight scar capsule.
Whichever type of breast implant you choose, it is important for you to monitor your breast implants and follow-up with your plastic surgeon for appropriate check-ups.
A breast implant procedure is not recommended for patients under the age of 18, as one's breasts are usually still developing until your early 20's.
What happens during a breast implant surgery?
Prior to the breast implant procedure, your plastic surgeon will have a consultation with you to discuss your goals, options and the details of your breast implant procedure. The incision site for the insertion of the implant will be discussed and agreed upon with your plastic surgeon prior to your surgery. The implant is usually inserted behind the milk ducts. This enables patients to be able to breastfeed with breast implants. Once all of the details have been agreed upon and confirmed, a date for the breast implant procedure is set.
Before the breast implant procedure, a general anesthetic with a local anesthetic is usually administered. In some cases, local anesthetic with IV sedation is used. After the anesthetic has taken effect, the surgeon will make an incision to insert the breast implant. Breast implants can be inserted through the armpit, under the breast, or through an incision around the areola. Once the breast implant has been inserted, the incision will be closed with sutures.
A breast implant procedure usually takes around 1-hour. However, for more complex cases such as a breast implant procedure with a breast lift, it may take longer.
Patients are advised to avoid sleeping on top of your breast implants (facing downwards) or getting the wounds wet during the first-week post-procedure. It is recommended that exercise and heavy lifting is avoided for a minimum of 4-weeks (or as advised by your plastic surgeon). It is also recommended that you wear a comfortable sports bra for the first few months. These sports bras should not be tight fitting in any way.
Whilst many patients can leave on the day of the surgery, some patients may need to stay overnight for observation. Patients are able to return to their hotel to recover for a few days before returning to have the stitches removed (if required). This will be advised to you by your plastic surgeon.
How do I find the right plastic surgeon?
The best way is to speak to a few surgeons and find out which surgeon you are most comfortable with. At Holiday Health, we can connect you to reputable and reliable cosmetic surgeons. We strongly suggest you take into consideration that the surgeon you choose:
is reputable and trustworthy;
has a proven track record;
is registered with or accredited by their local government or the governing medical body or association;
has never been disqualified from practicing anywhere in the world;
has never been found guilty of endangering a patient's life; and
has never been found guilty of malpractice.
You should also include any preferences you might have. For example, you might be more comfortable with a female surgeon, or someone who has more experience. Many women choose to complete this procedure as part of a mommy makeover.
Important 
Before your procedure, you will have the opportunity to discuss your goals and the results you would like to achieve with your plastic surgeon. Communication is vital in reaching your goals. Ensure you communicate your vision clearly to your plastic surgeon and re-confirm the intended procedure to ensure there is no miscommunication. Your plastic surgeon will work with you to reach an understanding about what you can expect from this procedure, and what long-term benefits and side-effects you may experience. Every patient is different, and your specialist will choose the surgical technique and treatment plan that is right for you.
Your plastic surgeon will give you specific instructions on how to prepare for surgery, including guidelines on eating and drinking, smoking, and which vitamins and medications should be taken or avoided.
Please note. The information found on this website is purely for educational purposes only and should not be relied upon for its exactness or for its accuracy for your specific situation and/or for your specific procedure. The information provided is not a substitute for advice from your physician/surgeon as it may not contain all the known facts, risks and side effects of this procedure. Please consult with your physician/surgeon about your personal circumstances and about your personal procedure/treatment plan. We take no responsibility for any misinformation, inaccuracies, or for any loss or damage suffered by you in relation to the services we provide to you, or the information provided on our website.
FAQs
The price of breast implants varies. With the plastic surgeons we work with, the price starts from AUD$2,397.
Infection
Scarring
Leaking of the implant(s)
Deformity due to the scar tissue forming around the implant
Back pain
There may be other potential risks involved when undergoing a breast implant procedure. Please discuss them further with your plastic surgeon.
Contact Us