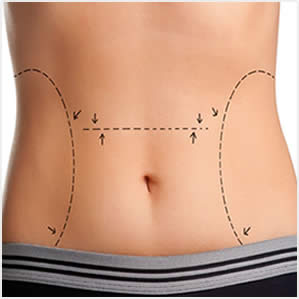 Cost of a tummy tuck
| | | |
| --- | --- | --- |
| Australia | | AUD9500.00 |
| UK | | AUD9337.00 |
| USA | | AUD6545.00 |
| Thailand | | AUD4799.00 |
| Mexico | | AUD3711.00 |
| Turkey | | AUD2433.00 |
* Prices start from and are subject to change
Abdominoplasty – Tummy Tuck
Aesthetic
What is an abdominoplasty?
An abdominoplasty, also known as a tummy tuck, is a reconstructive procedure which is performed to tighten loose muscles, remove fat and excess loose skin from the abdomen. In most cases, an abdominoplasty will restore weakened or separated muscles, help alleviate pain, improve bladder function, reduce itching and skin infections caused by excess skin, and change the shape and tone of the abdomen to create a firmer and smoother profile.
Abdominoplasty is not a substitute for weight loss or an appropriate exercise program. Many plastic surgeons recommend that abdominoplasty should be considered only after dieting and exercise have achieved the right body shape underneath. Having an abdominoplasty will also not stop you from gaining weight in the future.
This procedure is not recommended for patients on certain medications, or with certain underlying health conditions; or women who are planning to have more children.
What happens during the surgery?
You will have an initial consultation with your plastic surgeon to discuss the surgical options, your desired goal and the suitability of this procedure. Once all of the details are agreed upon and confirmed, a date for the procedure is set.
There are two different types of abdominoplasty surgeries which may be performed – a complete abdominoplasty, or a partial abdominoplasty. A complete abdominoplasty involves making two incisions, one at the navel, and one across the lower abdomen. This technique may require the navel to be re-positioned. Excess skin and tissue are removed and the stomach muscles are tightened. It may be necessary to have a surgical drain put in place after the surgery. A partial abdominoplasty involves making a smaller incision. This type of technique is targeted for patients who have fat deposits below the navel. Both techniques often incorporate liposuction as part of the procedure. Once the tightening is completed, the plastic surgeon completes the procedure by closing the incisions with small sutures.
The procedure usually takes approximately 2-3 hours. A more complex procedure may take longer. It is common to experience swelling, pain or numbness post-procedure. If you have a surgical drain attached post-procedure, they are usually removed 1-2 weeks after the insertion. Your plastic surgeon will provide you with care instructions for the surgical drains. Patients are recommended to avoid exercise or heavy lifting in the first 6-weeks post-surgery to allow for your body to heal and recover from the procedure.
Your plastic surgeon may recommend waiting around 2-weeks post-procedure before flying and taking precautionary measures against the risk of deep vein thrombosis (DVT).
How do I find the right surgeon?
The best way is to speak to a few plastic surgeons and find out which surgeon you are most comfortable with. At Holiday Health, we can connect you to reputable and reliable cosmetic surgeons. We strongly suggest you take into consideration that the surgeon you choose:
is reputable and trustworthy;
has a proven track record;
is registered with or accredited by their local government or the governing medical body or association;
has never been disqualified from practicing anywhere in the world;
has never been found guilty of endangering a patient's life; and
has never been found guilty of malpractice.
You should also include any preferences you might have. For example, you might be more comfortable with a female surgeon, or someone who has more experience. This procedure is very popular for mothers and is often combined with other procedures as part of a Mommy Makeover.
Important 
Before your procedure, you will have the opportunity to discuss your goals and the results you would like to achieve with your plastic surgeon. Communication is vital in reaching your goals. Ensure you communicate your vision clearly to your plastic surgeon and re-confirm the intended procedure to ensure there is no miscommunication. Your plastic surgeon will work with you to reach an understanding about what you can expect from this procedure, and what long-term benefits and side-effects you may experience. Every patient is different, and your specialist will choose the surgical technique and treatment plan that is right for you.
Your plastic surgeon will give you specific instructions on how to prepare for surgery, including guidelines on eating and drinking, smoking, and which vitamins and medications should be taken or avoided.
Please note. The information found on this website is purely for educational purposes only and should not be relied upon for its exactness or for its accuracy for your specific situation and/or for your specific procedure. The information provided is not a substitute for advice from your physician/surgeon as it may not contain all the known facts, risks and side effects of this procedure. Please consult with your physician/surgeon about your personal circumstances and about your personal procedure/treatment plan. We take no responsibility for any misinformation, inaccuracies, or for any loss or damage suffered by you in relation to the services we provide to you, or the information provided on our website.
FAQs
The price of an abdominoplasty varies. With the plastic surgeons we work with, the price starts from AUD$2,433.
Infection
Scarring
Swelling
Bruising
Numbness
Blood clot
There may be other potential risks involved when undergoing a tummy tuck procedure. Please discuss them further with your plastic surgeon.
Contact Us