Weight loss has always been a contentious issue in our society. Everyone wants to embody the picture perfect models gracing the covers of our magazines. Everyone wants to have a smaller waist, a firmer stomach, toned arms. Sometimes, when exercise and diet don't achieve the results quick enough, some people may resort to consuming dietary supplements. Whilst we don't condone or encourage the use of dietary supplements, we understand the reasons behind why some people believe they need to consume them.
A dietary supplement – Well Balance Xanthium & Siler Combo (Bi Yan Pian) with batch numbers 130401 and 150201 was recalled because they contain the presence of undeclared Ephedra Herba (ma huang). Ephedra Herba, which is an Ephedra alkaloid was banned by the FDA in 2004 as they pose a risk of serious adverse events.
Consumers who have purchased the product are urged to return them to the place of purchase for a full refund. The item is packed in a plastic brown bottle with white cap (sample image below) and each bottle contains 100 tables. Each tablet is 300mg.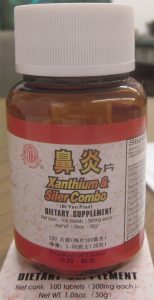 If you have any questions about the product or the recall, Kingsway Trading Inc has also set up a help line for those with questions: +1-718-366-2300.
Why was the Ephedra Herba banned by the FDA?
Ephedra is a medicine prepared from the plant Ephedra sinica, which has been used in traditional Chinese medicine for over 2,000 years. In recent years, dietary supplements containing ephedra alkaloids have been found to be unsafe, with reports of serious side effects and ephedra-related deaths. In 2004, the FDA banned the sale of any supplements containing ephedrine alkaloids in response to the overwhelming evidence of adverse effects and deaths related to the consumption of ephedra. Even though the ban was challenged in court by ephedra manufacturers, the US Court of Appeals for the Tenth Circuit decided to uphold the ban.
Any supplements containing ephedra alkaloids pose a risk of serious adverse events, including a heart attack, stroke and death. These risks are unreasonable in light of any benefits that may result from the use of these products under their labelled conditions of use, or under ordinary conditions of use if the labeling is silent.
Use of Ephedra in sports
Ephedrine, which is an alkaloid of ephedra, is listed as a banned substance by both the International Olympic Committee and the World Anti-Doping Agency. The National Football League and the National Basketball Association also banned its players from using ephedra, even though it remains widely used by athletes. A survey conducted in 2006 found that nearly half had used ephedra believing it will enhance their athletic performance.
FDA recommendation
The FDA is encouraging all health care professionals and patients to report any adverse events or side effects related to the use of the Comprehensive Reverse Shoulder to the FDA's MedWatch Safety Information and Adverse Event Reporting Program online or call 1-800-3321088.
Have you or someone you know used the dietary supplement by Kingsway Trading? Get in touch with us at [email protected] to tell us about your experience!
Read the full FDA alert here.