Hair Transplant Cost Guide
Due to the demand of hair transplant procedures across the world, many people are asking themselves 'how much does a hair transplant cost?'. For many people, the cost of undergoing a hair transplant in their home country is just not affordable, and with the advances in technology in other countries, hair transplants have become both more accessible and more affordable.
In the past, those considering hair transplant abroad were held back due to the lack of information on the prices and the clinics abroad. Although there are a number of factors that contribute to the price of a hair restoration procedure, including the clinic/country of choice, the number of grafts, and the hair restoration technique chosen.
The team at Holiday Health have created this ultimate guide on hair transplant to give you all the information you need to make an information decision if a hair transplantation in another country is right for you.  This guide contains the information you need to help you make a decision, such as how many grafts you may need, what the average price in each country is, and where to find reliable and quality clinics.
How much does a hair transplant cost?
The average price of a hair transplant in the United states is $16,000, whereas the average price in Turkey is $3,000. The large discrepancy from country to country is one of the main reasons people are choosing to get their hair transplant procedure done abroad. In most cases, you can undergo a hair transplant surgery, enjoy a holiday, and still save thousands of dollars.
The price of each individual's hair transplant will vary depending on the following factors:
the number of grafts;
the surgeon;
the health care facility
PRP treatment included; and
the country.
The price of a hair transplant in Australia, United Kingdom, and the United States is significantly higher than other countries due to higher operating costs the come associated with conducting business in those countries. This is one of the main reasons for the high increase in the number of people choosing overseas clinics to perform their hair transplant surgery at. Although the price is much lower at many clinics abroad, it does not mean that the quality of the service or the potential results achieved is of a lower standard.
At Holiday Health, the clinics and surgeons we work with have been thoroughly vetted to provide you with a peace of mind. We only work with reliable and quality health care providers around the globe.
If your concern is that the surgeon may not have had any or much international experience, you would be surprised to discover that many hair transplant specialists have actually completed their training, have gained experience, and is registered with medical associations based in Western countries like Australia, Germany, UK, and USA. This means that surgeons performing the hair transplant in countries like Turkey, Hungry and Mexico have often trained in America, Britain or Australia.
Average cost of a Hair Transplant in Turkey USD$3,000
Turkey sees tens of thousands of hair transplant patients each year. Although Turkey is well-known for its ophthalmology treatments, it also home to hair transplant specialists in Istanbul, Ankara, Antalya, and Izmir, offering hair transplants at an average of USD$3,000 (USD$1.50-$5 per graft). This price usually includes accommodation as well as airport and hotel transfers, making Turkey a very value-for-money destination.
Average cost of a Hair Transplant in India USD$3,000
India is a strategically located for many medical tourists. Many medical tourists from the US, Australia, and Asia travel to India for more affordable medical treatments. There are many specialist clinics in Mumbai, Hyderabad, and Kolkata that offer hair transplants averaging USD$3,000 (USD$1.50-5 per graft).
Average cost of a Hair Transplant in Hungary USD$3,600
Hungary's central European location has propelled it as one of Europe's favorite destination for hair transplant patients looking for affordable hair transplants. Hair transplant surgeries in Hungary averages USD$3,600 (between USD$1.50-$5.20 per graft) and there is a specialist hair transplant clinic in Budapest, Hungary's capital whose specialists have trained in the United States.
Average cost of a Hair Transplant in Poland USD$4,000
An eastern European country on the Baltic Sea which is renowned for its medieval architecture, Poland is a popular choice for many hair transplant patients across the globe. Krakow, Warsaw, Poznan, Wroclaw and Gdansk are Poland's favorite holiday destinations. Hair transplant surgeries in Poland averages USD$4,000 (between USD$2-$6 per graft) and many of Poland's hair transplant surgeons have trained overseas.
Average cost of a Hair Transplant in Mexico USD$4,500
Many patients from the United States choose to make the journey across the border for cheaper and more accessible hair transplant surgeries due to its proximity to their hometowns. The average price of a hair transplant in Mexico is USD$4,500 (USD$2.25-$5.50 per graft) and the price usually includes airport and hotel transfers.
Average cost of a Hair Transplant in Malaysia USD$5,000
Malaysia is another popular destination for cosmetic procedures, having gained a solid reputation as a superior international health care provider. Hair transplants in Malaysia average USD$5,000 (USD$2.60-$6 per graft). Many medical tourists choose to travel to Kuala Lumpur, Penang and Johor Bahru with many of the health care providers in those cities having the internationally recognized JCI accreditation and their surgeons having trained internationally.
Average cost of a Hair Transplant in Thailand USD$5,200
Thailand is and has been a popular destination for medical tourists from the US and Australia, with many of their hospitals forming dedicated departments to cater to their international patients. Thailand's capital city, Bangkok sees hundreds of thousands of medical tourists each year and the average cost of a hair transplant in Thailand is USD$5,200 (USD$2.60-$6 per graft).
Average cost of a Hair Transplant in the United Kingdom USD$7,000
With the NHS not covering the costs of a hair transplant, a patient would have to fork out an average of USD$7,000 (USD$3.50-$7.50 per graft) for a hair transplant in the UK. With London, Birmingham, Edinburgh, Glasglow and Manchester having specialist hair transplant clinics, many hair transplant patients prefer to travel to UK's main cities rather than out in the country for accessibility purposes.
Average cost of a Hair Transplant in Australia USD$15,000
Australia is one of the most expensive places to undergo a hair transplant in the world. Melbourne, Sydney, Brisbane and Perth all have specialist hair transplant surgeons with many years of experience. The average price of a hair transplant in Australia is USD$15,000.
Average cost of a Hair Transplant in the United States of America USD$16,000
Over 250,000 patients underwent a hair transplant procedure in the US in 2016. Having built a good reputation for themselves, the specialist hair transplant clinics in the USA in Los Angeles, Newport Beach, Miami and New York continue to be popular with hair transplant patients despite their high price tags. The average price of a hair transplant in the US is USD$16,000 (USD$8-$12 per graft).
Hair transplant price comparison table
Average hair transplant cost

(prices based on 2,000 grafts)

Per Graft

price ranges

1.
Turkey
$3,000
$1.50 – $5.00
2.
India
$3,000
$1.50 – $5.00
3.
Hungary
$3,600
$1.80 – $5.20
4.
Poland
$4,000
$2.00 – $6.00
5.
Mexico
$4,500
$2.25 – $5.50
6.
Thailand
$5,200
$2.60 – $6.00
7.
Malaysia
$5,000
$2.50 – $6.00
8.
UK
$7,000
$3.50 – $7.50
9.
Australia
$15,000
$7.50 – $13.50
10.
USA
$16,000
$8.00 – $12.00
* Please note. All pices are in USD and are subject to change.
How many grafts will I need?
A typical surgery involves anywhere from 1,000 to 3,000 grafts. We have designed the infographic below for your reference. The suggested number of grafts in the below infographic serves only as a guide and you should seek advice from your hair transplant surgeon to confirm the required number of grafts for your specific hair line.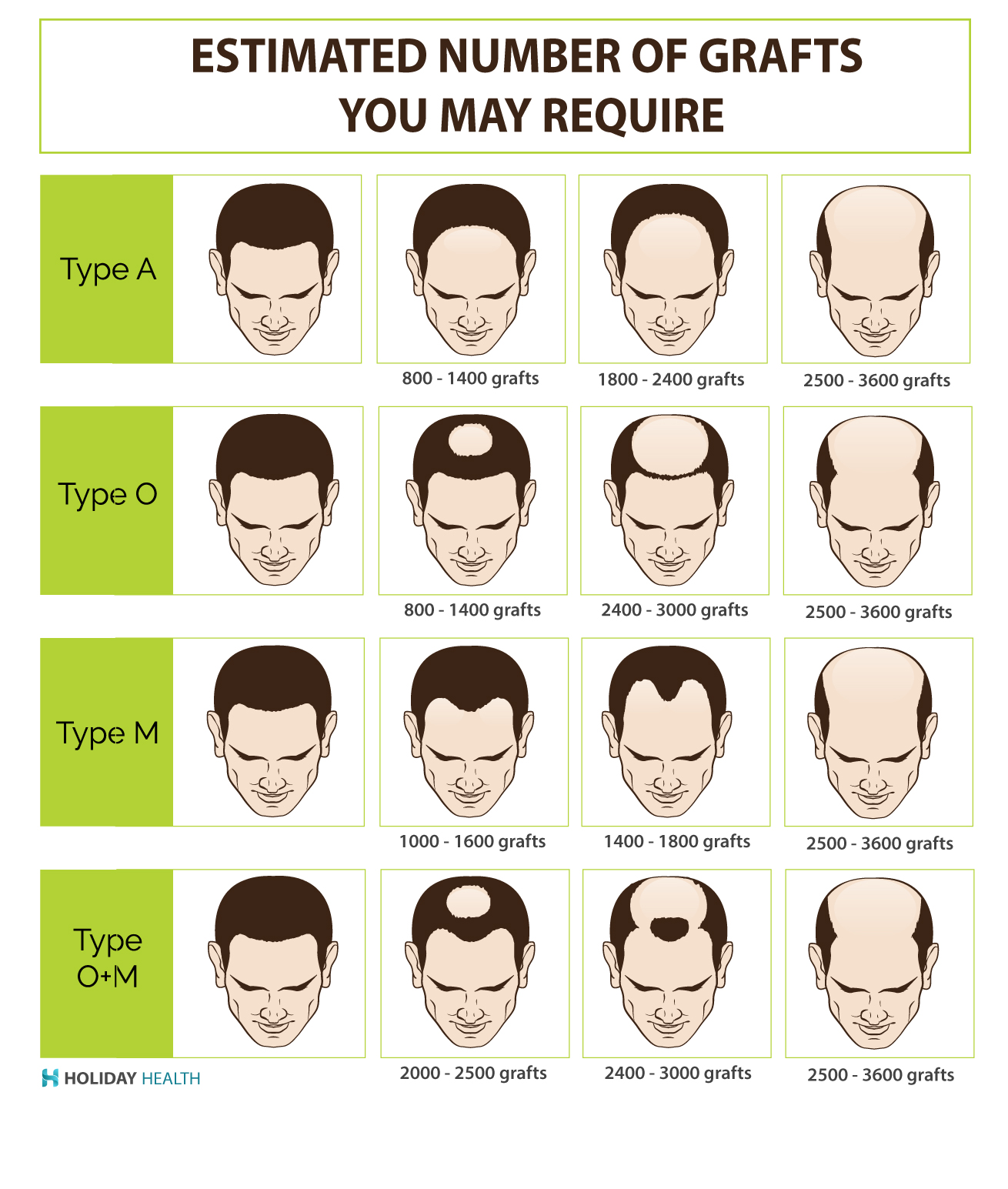 How does a hair transplant work?
What are the two common techniques used for a hair transplant? The two common surgical methods of hair transplantation are the – follicular unit extraction (FUE) or follicular unit transplantation (FUT) method. Many patients prefer the FUE technique as it has a faster recovery period, there is no linear scar in the donor area, and there are no limitations on strenuous exercise post-procedure. Patients who prefer the FUT technique does so as the maximum follicular unit graft yield is higher, the graft is out of the body for a shorter period of time, and due to the cost factor – the FUT technique is generally cheaper.
The FUE technique
How does the FUE technique work? The FUE technique is a highly popular hair transplant technique which involves the extraction of follicular units (between 1-4 hair follicles) from the back or sides of your scalp and transplanting them onto the balding areas of your scalp. These transplanted hairs will then fall out between 2-6 weeks post-procedure. However, the roots of those hairs will stay in place, and produce new hair between 3-6 months. It usually takes 12-months to see the full results of the hair transplant procedure.
There may also be some scarring left in the donor area post-procedure which are micro-scars looking like little dots. Unless the patient's hair is really short, these micro-scars are not generally visible. Patients that prefer a shorter hair length usually opt for the FUE procedure as it does not leave a linear scar which can be visible.
Find out more about the FUE technique.
The FUT technique
Is the FUT technique much different from the FUE technique in a hair transplant surgery? The FUT is a procedure where hair is transplanted from the area on the back of your head and sides of your scalp to the balding areas of the scalp. An FUT procedure involves the surgeon removing a strip of tissue from the back of your head or the sides of your scalp known as the donor strip. Once extracted, the donor strip is cut into many follicular units using microscopic dissection techniques. As these follicular unit grafts are being prepared, the doctor makes tiny holes in the scalp, where the grafts are placed. The arrangement and positioning of these follicular unit grafts determine the aesthetic qualities of a hair transplant, and so this arrangement must be decided on a case-by-case basis, depending on your history of hair loss and the likelihood of future hair loss.
There may also be some scarring left in the donor area after the procedure which looks like a narrow linear scar on the back of the head. Unless the patient's hair is really short, the scar is not generally visible.
Find out more about the FUT technique.
We hope that you have benefited greatly from this cost guide that we have prepared! If you have any questions about or you are interested in undergoing a hair transplant procedure abroad, come speak to one of our friendly team members who will be more than happy to assist!
View Real life example of a hair transplant before and after!