What is an EpiPen Auto-Injector?
EpiPen 0.3mg and EpiPen Jr 0.15mg Auto-Injectors are for people who have a history of life-threatening allergic reactions to things like bee stings, peanuts or seafood, or are at an increased risk for a severe allergic reaction.
EpiPen is an injection containing epinephrine, a chemical that narrows blood vessels and opens airways in the lungs. These effects can reverse severe low blood pressure, wheezing, severe skin itching, hives and other symptoms of an allergic reaction.
FDA Announcement
Mylan N.V. announced that Meridian Medical Technologies and their manufacturing partner for the EpiPen Auto-Injector has expanded a voluntary recall of select lots of EpiPen and EpiPen Jr Auto-Injectors to now includes additional lots of the product distributed in the US, Europe, Asia, as well as North and South America.
This recall impacts the 0.3mg and 0.15mg strengths of EpiPen Auto-Injector. The recalled product was manufactured by Meridian Medical Technologies and distribtued by Mylan Specialty between December 2015 and July 2016. None of the recalled lots include the authorised generic for EpiPen Auto-Injector, which is also manufactured by Meridian Medical Technologies.
The recall is being conducted as a result of the receipt of two previously disclosed reports outside of the US of failure to activate the device due to a potential defect in a supplier component. The potential defect could make the device fail to activate or an increased force is needed to activate in an emergency and have significant health consequences for a patient experiencing a life-threatening allergic reaction (anaphylaxis). Both reports are related to the single lot that was previously recalled.
Below is a list of the affected product lot numbers.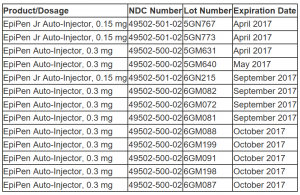 The lot number can be found on both the 2-Pak carton and the EpiPen Auto-Injector itself. If the EpiPen Auto-Injector is still in its packaging, unopened, you can refer to the left flap on the carton, which is black in colour. You will find the lot number written in white and preceded by the word 'LOT'.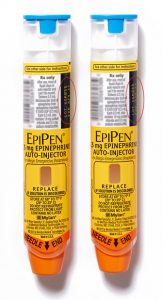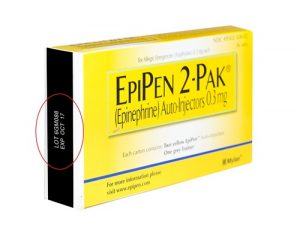 What do you have to do next?
Patients, customers and distributors are being notified and should refer to www.mylan.com/EpiPenRecall for updates on product return and replacement instructions. Mylan N.V. advises its customers in possession of any of the affected lot numbers to keep their existing products until the replacement products can be secured.
Patients may receive either the EpiPen Auto-Injector or the authorised generic for EpiPen Auto-Injector at the pharmacy as a replacement based on the availability of the product. The authorised generic has the exact same drug formulation, the exact same operating instructions, and is therapeutically equivalent to EpiPen Auto-Injector.
So check your medicine cabinets to check if your EpiPen or EpiPen Jr Auto-Injector is affected. Please make sure if you have in your possession the affected lots that you continue to carry your current EpiPen Auto-Injector until you receive a replacement device.
Patients who think they might be impacted by this recall can contact Stericycle at +1-877-650-3494 between 8am-10pm EST Monday-Friday, and between 8am-5pm EST on Saturday and Sunday.
The FDA is encouraging all health care professionals and patients to report any adverse events or side effects related to the use of the EpiPen or EpiPen Jr Auto-Injector to the FDA's MedWatch Safety Information and Adverse Event Reporting Program online or call 1-800-332-1088.
Read the full FDA alert here.